Jam Sessions Volume 14: Comedy Sessions
Date: Sunday 27th July2014
Time: 4pm – 8pm
Venue: La Mango, 2 Adekunle Fajuyi Street, Ikeja, GRA, Lagos
Twitter: @BNGJamnation
---
Olayinka Live In Concert
Date: Sunday 27th July 2014
Time: 3pm
Venue: Province 23, Maranthon Church, Head Quarters, No. 21, Layori soetan Street, Roundabout, Gbagada, Lagos
---
Paul Agubata & Winners Family – King of Kings
Date: Sunday 27th June 2014
Time: 7am & 9:30am
Venue: Winners Chapel, Owerri
---
African Women Summit
Date: Friday 25th July 2014
Venue: United Nations Headquarters, New York, USA
For more information contact:
Email: africanwomensummit@gmail.com
---
SBS Presents Starting With What You Have
Date: Sunday 27th July 2014
Time: 9am
Venue: CHARIS HALL, 62A Opebi Road, Salvation Bus Stop, Ikeja, Lagos
---
Israel & New Bread Live in Concert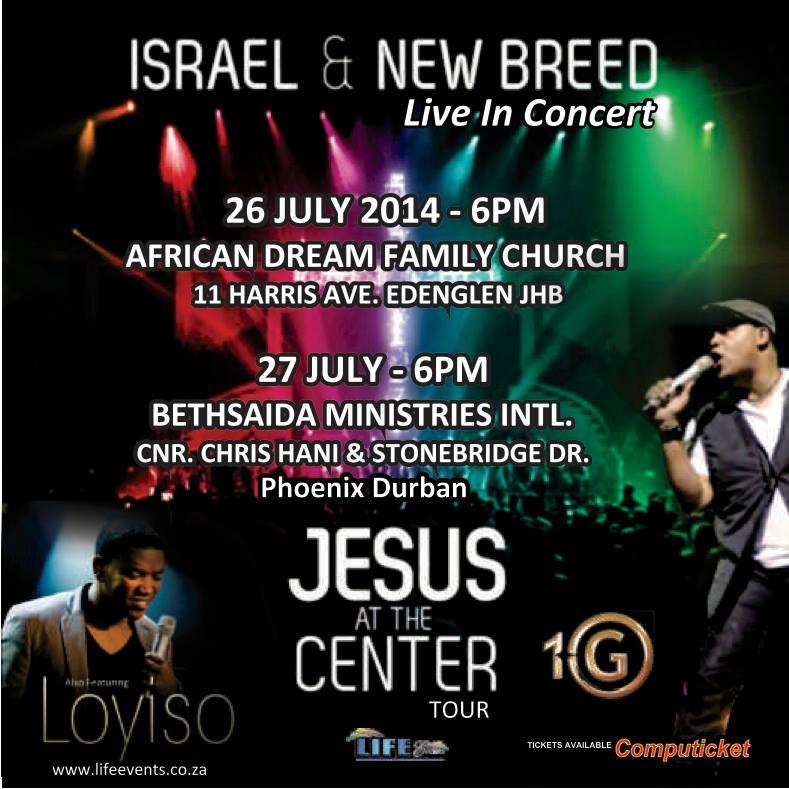 Date: Saturday 26th July 2014
Time: 6pm
Venue: African Dream Family Church, 11 Harris Ave. Edenglen JHB
Date: Sunday 27th July 2014
Time: 6pm
Venue: Bethsaida Ministries Int'l. CNR. Chris & Stonebridge DR. Phoenix Durban
---
Saturday Just Got More Festive
Time: 6:30pm – 10pm
Date: Every Saturday
Venue: Second Floor InterContinental Lagos
---
The Butterfly Effect
Date: Every Sunday In July
Time: 7am
Venue: The Goodland; Ifako Bustop besides Etisalat Billboard, Along Ogudu Expressway, Ogudu
For more information contact: +234 806 089 5213
_____________________________________________________________________
Some of these events are free while others are either by registration or invitation. If you want your events to be featured in SelahAfrik's Weekend Outlook, please send an email with details about your event (This include soft copy of your flyer or invite [jpg, png or gif]) to admin@selahafrik.com. SelahAfrik is not responsible for these events or their further promotions. Featuring your event on SelahAfrik's Weekend Outlook is free!!!
Connect with SelahAfrik: Twitter | Facebook | Instagram | Google+ | Pinterest 
Latest posts by Alex Amos
(see all)